Travelmood.Ie
weddings abroad dublin honeymoon travel agents ireland
Travelmood.Ie
Address
18 -19 Duke Street,
Dublin,
Ireland
Telephone
01 4331052
Tailor Made Holidays & Flights , Travelmood. Tailor made holidays from Travelmood are perfect for those seeking incredible holidays to amazing destinations. Find great flight deals, fantastic family holidays, eye-opening escorted tours and safaris with Travelmood.
Write a review of Travelmood.Ie

More Travel Agents in Ireland
Abbeyfield Farm Country Pursuits
Abbeyfield Farm Country Pursuits,, Clane
Breakaway Travel
Unit 24/546 Kennedy Centre, Belfast
Chaka Travel
98 University Street, BT7 1HE
Classic Resorts
24/25 Lower Liffey Street,
Concorde Travel
69 Upper OConnell Street,
Cruise Holidays
62 - 63 Middle Abbey Street, Dublin 1
Cruise Holidays
62 Patrick street, Cork
Curragh Travel
Unit 3, Newbridge
Czech Tourist Authority Czech Tourism
13 Harley Street, London
Irish Honeymoon Registry
11 Vernon Ave, Clontarf
Lee Travel Limited
24 Princes Street,
Orrs Travel
1-6 St. Helens Business Park, Holywood
Portrush Travel
21 Main Street, Portrush
Strand Travel
Strand Travel, Waterford
Tour America Direct.co.uk
62-63 Middle Abbey Street, Dublin 1
Tour America.ie
62-63 Middle Abbey Street, Dublin 1
travelmax.co.uk
Unit 12/Ballymena Business Development Centre, Ballymena
1 Stop Travel
Odeon House, Galway
Aloha Holidays
65 Roebuck Castle, Dublin 14
American Holidays
18-19 Duke Street, Dublin 2
American Holidays
22 Lombard Street, Belfast
Authentic Ireland Travel
Elevation Business Park,
Beacon Cruises
Beacon Cruises, The Cruise Centre, Cork
Caribbean Collection
30 Lower Abbey Street, Dublin 1
Century Travel
1 Castle Court, Dungannon
Clubworld Travel
17 Magowan Houses, Portadown
Clubworld Travel
Unit 3/Dromalane Mill, Newry
Clubworld Travel
Banbridge
Clubworld Travel
Crumlin Travel Club
82 Main Street, Crumlin
D M C Villas (Arizona)
The Celtic Business Centre,
Destinations.Ie
30 Lower Abbey Street, Dublin 1
Dubrovnik Apartment Source
161 The Alliance Building, Dublin
Elaine Geraghty Travel Counsellor
Go Cruise
Lisburn, Belfast,
Gohop.Ie
Gohop.ie38 Pearse Street, Dublin
Heffernans Travel
Pembroke House,
Irish Wedding Insurance
Irish Wedding Insurance, Mayo, Mayo
Joe Walsh Tours
143 Lower Baggot Street, Dublin 2
Linglyn Travel
5 Plane Tree Close, Leeds
Mackin Travel
North Main Street, Wexford
Mahlatini Safari & Honeymoon Specialists
89 Castlereagh Road, Belfast
Mc Guill Travel Ltd
Market Square, Dundalk
McCurdy Hamilton Ltd
17 Main Street, Ballymoney
Newbridge Travel
Main Street, Newbridge
Odriscoll Travel
The Square, Millstreet
Runaway Bride And Groom
Runaway Bride and Groom, Wexford, Wexford
Sayit Travel Ltd
Sayit Travel Ltd, Cork
Sunway Holidays
Marina House, Dun Laoghaire
The Co Operative Travel
129a Upper Lisburn Road, Belfast
The Quiet Man Experience
Clonbur
The Travel Boutique
8 They Hyde Building, Carrickmines
The Travel Broker
The Travel Broker11 Vernon Ave, Clontarf
Topflight Honeymoons
Jervis House,
Town And Country Homes
Town and Country Homes, Belleek Road, Ballyshannon
Trailfinders Honeymoons
Trailfinders Honeymoons4/5 Dawson Street, Dublin
Transylvania Live
Transylvania Live13 Upper Baggot Street, Dublin
Travelmood.Ie
18 -19 Duke Street,
Utravel
UTravel19-21 Aston Quay, Dublin
World To Africa
World to Africa, The 5 Arches, Galway
World Tourism Consultant
world tourism consultant140 Braemor Road, Dublin
More Travel Agents in the United Kingdom
More Travel Agents in Ireland
Feature Travel Agents Article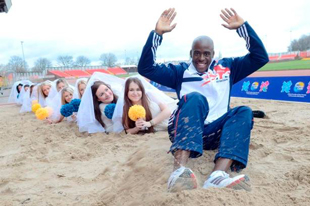 Blushing brides brandishing bouquets have proven to be no Olympic hurdle for Team GB long jump hopeful, JJ Jegede, as he "leap"-froged over them on February 29- the only day women can propose.
Like Olympic athletes, for the country's women, some chances only come round every four years.
As thousands of our athletes are putting forward their proposals for inclusion in the London games, many women across Britain were doing the same - with a summer wedding rather than a gold medal their ultimate goal.